Lake Spotlight: Lake Tyler
Posted by Ben Burks on Monday, May 1, 2023 at 3:55:27 PM
By Ben Burks / May 1, 2023
Comment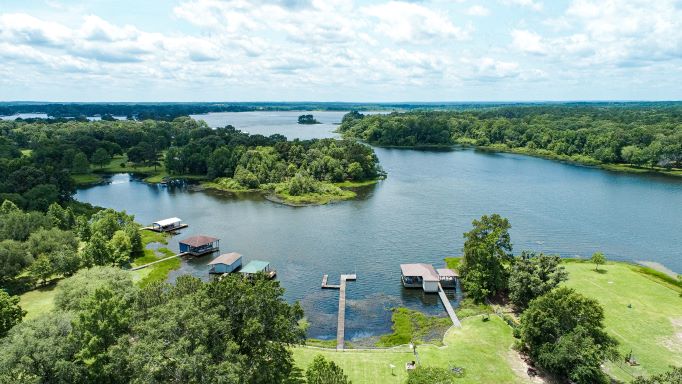 Located in eastern Texas, Lake Tyler is a popular recreational spot for locals and visitors alike. With its sparkling waters, scenic views, and abundance of activities, it's no wonder why so many people flock to this picturesque lake every year. In this blog post, we'll take a closer look at what makes Lake Tyler so special. Lake Tyler is surrounded by our local communities Tyler, Whitehouse, Troup and Arp.
History and Geography
Lake Tyler is actually made up of two separate bodies of water: Lake Tyler East and old Lake Tyler. Both lakes were created in the mid-20th century as part of a flood control project. The lakes are fed by two creeks, Prairie Creek and Mud Creek, and are connected by a canal.
Lake Tyler East covers over 2,000 acres and has a maximum depth of 40 feet. The lake is located just outside the city of Tyler, and is surrounded by forests and rolling hills. Lake Tyler West, on the other hand, covers just over 1,000 acres and has a maximum depth of 35 feet. It is located to the northwest of Lake Tyler East and is surrounded by a few neighborhoods and a lot of wildlife areas.
Recreation
One of the main draws of Lake Tyler is the wide range of recreational activities it offers. Fishing is a popular pastime on both Lake Tyler East and old Lake Tyler, with anglers casting their lines in search of catfish, bass, crappie, and more. There are several boat ramps and fishing piers located around the lakes to make it easy for visitors to access the water.
Water sports are also a big draw at Lake Tyler. Boating, jet skiing, and water skiing are all popular activities, and there are several marinas located around the lakes that offer boat rentals and other services. Kayaking and paddleboarding are also popular ways to explore the lake, and there are several outfitters in the area that offer rentals and guided tours.
For those who prefer to stay on land, Lake Tyler offers plenty of opportunities for hiking, biking, and picnicking. There are several parks and trails located around the lakes, including the Lake Tyler Nature Center, which offers a variety of educational programs and exhibits.
Events and Attractions
Lake Tyler is home to several annual events and attractions that draw visitors from all over the region. One of the biggest events is the Tyler Yacht Club Regatta, which takes place every spring and features sailboat races, live music, and food vendors. Other popular events include the Lake Tyler Triathlon and the Lake Tyler Oilmen's Bass Tournament.
We would love you help you find your dream home on Lake Tyler. To get the most up-to-date listings visit our Lake Tyler home search.