Longview Independent School District
Longview Independent School District (ISD) is located in Longview, Texas and serves over 8,000 students in the area. The district is made up of 8 elementary schools, 4 middle schools and 2 high schools. Each school offers a range of academic programs and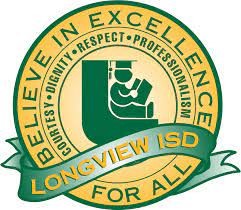 extracurricular activities to support student success and engagement.
Elementary schools in the district include Bailey, Bramlette, Hudson, Everhart, Johnston-McQueen, Williams and Ware. These schools provide students with a strong foundation in reading, math, science, and social studies, as well as opportunities to participate in art, music, and physical education classes.
The district's middle schools include Forest Park, Judson, and Foster These schools offer a wide range of academic programs, including honors and advanced placement (AP) classes, as well as elective courses in areas such as art, music, and technology. Additionally, there are many extracurricular activities for students to participate in, including sports teams, band and orchestra programs, and clubs and organizations.
Longview High School and Early Graduation High School are high schools in the district. Both schools offer a comprehensive curriculum, including honors and AP classes, as well as a variety of elective courses. The high schools also provide students with opportunities to participate in athletics, fine arts, and other extracurricular activities. Longview High School also offers a variety of Career and Technical Education programs such as welding, automotive, and cosmetology.
In addition, Longview ISD is committed to providing a high-quality education to all students. The district has a variety of programs and services in place to support student success, including a gifted and talented program, special education services, and English as a second language (ESL) programs. The district also places a strong emphasis on technology integration in the classroom, with all students in grades 3-12 receiving a district-provided device to use for learning.
Overall, Longview ISD is dedicated to providing its students with a well-rounded education and preparing them for success in their future endeavors. If you are looking to relocated you can search for Longview homes here.